An odd assemblage of zombie stories
This is a collection of stories edited and selected by author John Skipp.  Overall it was an enjoyable read.  None of the stories were boring, but more than a few made me squeamish.  Most of the stories are non-traditional and feature literary giants Joe R. Lansdale, Stephen King, Robert Bloch, and Neil Gaiman.
One of my favorite stories, "Sparks Fly Upwards", was first encountered in this volume.  It was written by Lisa Morton and features a controversial mix of zombies and abortion.  It details the issues of population control within a survivor community.  The survivors must make choices as to who is allowed to conceive and carry a child to term, and they must deal with the ramifications of pregnancy that can't be carried to term.  An absolute stand-out tale.
I barely made it through "On the Other Side of the Cadillac Desert with Dead Folks" by Joe R. Lansdale.  It was a great, avant garde story, but like I said earlier I'm squeamish.  Lansdale is very innovative, and knows how to play shock value for all its worth while creating a meaningful story.  It was so gruesome it was hard to finish – but more than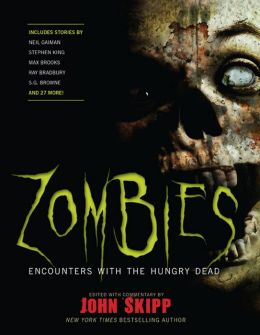 worth the effort.
Terry Morgan and Christopher Morgan deliver an exciting tale of samurai bravery and loss in "Zaambi", which is definately on my list of favorite stories.  When villages are besieged by the undead, the samurai take care of the villagers.  This story also delves into the selection process the children must undergo before they begin training as samurai.
As a bonus, there are two appendixes at the end of the book.  These appendixes examine the zombie's role in history and in popular culture, respectively.  They're fascinating reads for the zombie enthusiast.  (I've also used points from both to justify my zombie obsession to my less afflicted friends and family.)
Overall, I would recommend this book to anyone who is looking for a new perspective on the zombie apocalypse.
Pros:
A variety of stories to suit many tastes
Great writers represented (Gaiman, King, Bloch, and others)
Author and story introductions for every story in the anthology
Nice cover art
Nice art for each story
Interesting and humorous preface and appendixes
Cons:
Some of the stories are borderline offensive (themes of religion and sexuality involving the undead)
Not a book you would give to a young zombie enthusiast (see above point)